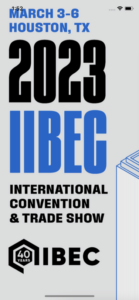 Want to stay connected to what all is going on at the 2023 IIBEC International Convention & Trade Show? The 2023 IIBEC Convention app is ready for download from your device's app store so you can start planning your days now! Search 2023 IIBEC Convention in your Apple or Google Play store or click here to download. Everything's just one click away!
Features include:
Plan Your Days: Browse education by tracks and favorite the ones you do not want to miss. You can find detailed information on each presentation and speaker as well.
Interactive Floor Map: The 2023 IIBEC International Convention & Trade Show floor map is fully interactive. Browse through the list of exhibitors, add your favorites, and see exactly where they are located on the show floor.
Notifications: Keep your notifications turned on throughout the event to make sure you don't miss a special event.
Or scan the QR Code to download on your mobile device.